Breast Augmentation With the Minimal Touch technique
The method known as the minimal touch technique is a modern surgical technique in the field of breast augmentation. Unlike in the past, the tissue is handled much more gently and less traumatising than with breast augmentation using silicone implants. The background of this modern surgical procedure is the reduction of complications, using silicone implants. The background of this modern surgical procedure is the reduction of complications, but also of pain after the operation. In addition, the minimal touch technique can also reduce long-term complications, such as capsular fibrosis. This not only reduces contact with the inserted silicone implant and the surgeon's hand, as was previously the case.
Minimal Touch technology –
More Patient Safety
It goes much further, this special technique is also about preparing the pocket under the muscle in such a way that this is done gently atraumatically for the tissue. Up to now, the pectoral muscle has sometimes been very roughly dilated by the simple process of inserting the hand. With the minimal touch technique, preparation is precise, clean and uses appropriate instruments. This means that the entire pocket is prepared without direct contact with the surgeon's hand, i.e. exclusively by the inserted instruments. This offers the big advantage of reducing contamination and impurities that could potentially occur through direct contact with the surgeon's glove. Compressors, abdominal cloths or other materials that could in principle lead to the formation of lint are not used in this process. These materials are considered by experts to be a possible source of contamination and are therefore always avoided on our part.
Testimonials
After a long search I finally found the surgeon I trust! I have a complicated story about Prof. Dr. medical Sinis come. He encouraged me, but was honest with me at the same time.
20.08.2022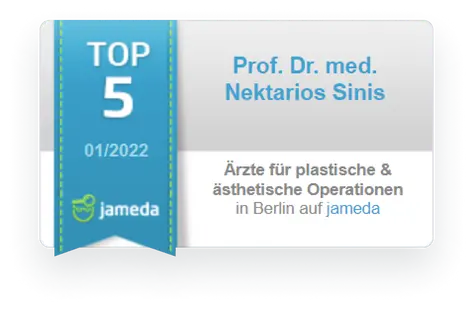 Minimal Touch Technology
The general rule is that the less surgical trauma is caused, the less pain follows an operation. Therefore, breast augmentation with silicone implants using the minimal touch technique represents an additional factor for pain reduction after surgery. However, in order to make the patients largely pain-free, we also rely on the interdisciplinary cooperation with our in-house department for anaesthesiological pain therapy. In addition to an early and efficient pain management, which is applied immediately after the operation in the first few hours, this cooperation also includes the further close monitoring of the patient after the breast enlargement with appropriate medication in the outpatient area.
In addition to the usual painkillers, which can be taken orally and help to reduce the swelling of the breast, these are additional muscle-relaxing drugs (so-called muscle relaxants). This is how the pain is largely reduced and breast augmentation with silicone implants becomes a painless operation.
Consultation
With the "Hello Professor!" function you can forward your questions or pictures directly to Professor Sinis via WhatsApp.