Thread Lifting in Berlin
The thread lift in our Berlin clinic is a method for face lifting without surgery. It owes its name to the threads that are used in this type of treatment and provide the lifting effect. and provide the lifting effect. In contrast to other facelifts, the thread lift is carried out with specially developed threads, without surgery. These sutures are carefully inserted under the skin with a micro needle. Due to small barbs, which are located on the thread, it can be anchored in the subcutaneous fat tissue. Then the actual thread lift takes place by gently pulling the thread, the face can be modeled as desired. Cheeks or the corners of the mouth as well as eyebrows that hang lower over time can also be tightened or lifted using this method.
Thread Lifting:
The facts
Length of stay in the clinic
Outpatient
Anesthesia
Local anesthesia
Follow-up treatment
Avoid physical stress
for a few days
Resumption of social activities
Usually immediately
General Information About
Thread Lifting
The special structure prevents the thread from slipping or tearing. The suture lift in Berlin lasts about one hour and is performed under local anaesthetic. Over time, the sutures are slowly broken down by the body and replaced by natural collagen, creating a natural supporting framework. The face regains its original volume without an artificial, mask-like expression. A facelift without an operation leaves hardly any visible scars. The small punctures caused by the micro needle also heal very quickly. The beautiful result is immediately visible and lasts up to three years. A thread lift also has the advantage that it can be combined with other skin rejuvenation measures.
Testimonials
After a long search I finally found the surgeon I trust! I have a complicated story about Prof. Dr. medical Sinis come. He encouraged me, but was honest with me at the same time.
20.08.2022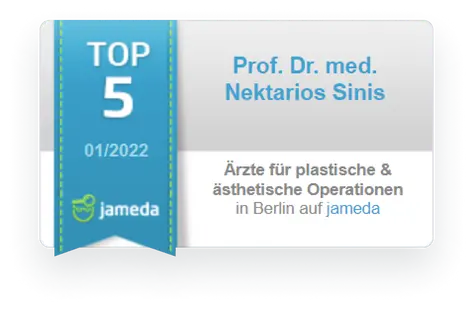 Threadlifting Experiences
A thread lift is a gentle treatment for skin tightening without surgery. Special, self-dissolving threads are applied to the fatty tissue of the facial skin during a thread lift. Due to its special structure the thread is firmly fixed there. By moving the thread back and forth, the face can be tightened as desired during this lifting treatment. After a certain period of time in the tissue, the threads are converted into the body's own collagen. This natural mass now ensures a firm and well-shaped face for a longer period of time. The great advantage of this treatment is that the procedure is less extensive and is therefore less stressful for the patient. The treatment with the thread-lifting method takes place at our clinic in Berlin, Dahlem under local anesthesia and is completed after about one hour.
The aesthetic result is already apparent immediately after the facelift, and only needs to be refreshed after about three years. Thread lifting is ideal for carrying out further beautifying measures at the same time, such as upper or lower eyelid lifting.
Testimonials from other patients can be a great help for many people who are also thinking about a thread lift. In addition, before and after pictures are an important source of information on a thread lift. On the portals Jameda and estheticon.de you will find experience reports on the subject of thread lifting, which were made in our Sinis Clinic Berlin. These sources of information and of course the personal consultation with us will help you to get a precise idea of a thread lift. In addition, this information will give you an idea of what the before and after effect of a thread lift in Berlin might look like in your particular case.
Problems & Risks
Since no incisions are necessary for a suture lift, it is a very gentle type of facelift, with a very low risk of complications. For some patients, the limited duration of effect of a suture lift could be a problem. As the threads used dissolve over time, the lifting effect also gradually decreases. After two to three years at the latest, the thread lift would have to be repeated. For these patients, another facelift method, with a longer lasting lifting result such as MACS Lifting, might be more appropriate. The Mini Facelift is an alternative for patients who are looking for a long-term and gentle procedure.
The thread lift is also not the right solution for older patients or for patients with an advanced aging process of the facial skin. We recommend SMAS lifiting for these people. In this group of patients, the thread lift would not be able to eliminate the problem of deep-seated wrinkles.
Possible risks during a thread lift are rather low, as the procedure is not performed with a scalpel but with a micro-needle and thus no incisions of the skin are made. Minor swellings or even bruises as well as feelings of tension in the facial skin can occur as side effects and are completely normal. These subside by themselves after a few days. Above all, the risks of possible infections are lower with a suture lift than with other invasive methods.
In order to avoid side effects, possible negative reactions such as allergies or intolerances of the patient to the products to be used should be excluded before the procedure. Excessive facial movements, physical exertion and exposure to sunlight can pose risks and should therefore be avoided in the first days after the suture lift.
Consultation
With the "Hello Professor!" function you can forward your questions or pictures directly to Professor Sinis via WhatsApp.