Breast Augmentation
with Polytech
POLYTECH Health & Aesthetics currently offers the widest selection of silicone breast implants for your breast enlargement in terms of gel type, projection, shape, size and surface. This has the great advantage that each patient can be offered their individually perfect solution regardless of whether it is a reconstructive measure in the form of breast reconstruction, as a result of a disease, or a purely aesthetic measure. POLYTECH is the only manufacturer of breast implants in Europe that can have a microethane coating.
Breast Augmentation with Polytech:
The facts
Length of stay in the clinic
1 day
Anesthesia
General anaesthesia
Follow-up treatment
6 weeks compression bra,
if necessary Stuttgart belt
Resumption of social activities
After 14 days
Breast Augmentation with Polytech
This coating is characterized by its high compatibility in particular. All in all, the implants manufactured by POLYTECH in Dieburg are characterized by their dense and multi-layer shell and their special non-liquid silicone gel. This condition ensures that the artificial breast is hardly distinguishable from a natural breast.
Testimonials
After a long search I finally found the surgeon I trust! I have a complicated story about Prof. Dr. medical Sinis come. He encouraged me, but was honest with me at the same time.
20.08.2022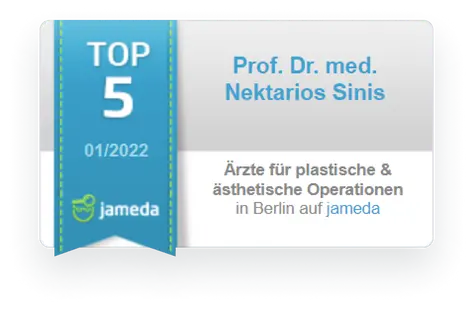 The Types of the Products Manufactured with Polytech
The future quality of the products is already ensured in the development phase. This is achieved by using the right raw materials, measures that ensure biological and mechanical safety, as well as high stability and functionality of the products. Furthermore, the shape of the products is important to achieve the best aesthetic results.
To meet these high standards, both internal and external audits are carried out. The external tests are carried out by independent testing laboratories in order to create an independent requirements profile. Areas such as biocompatibility, mechanical stability and regular monitoring of sterility are tested here. Internal audits are carried out continuously. The results of both test areas are finally combined into a technical documentation, which is then handed over to MDC Medical Device Certification GmbH in Stuttgart for testing. This body then decides whether the respective products are to be released.
All breast implants from POLYTECH are certified with a CE mark, which is only awarded if the corresponding products meet certain standards. A conformity assessment procedure must be carried out before the certificate can be issued. This process involves testing to assess areas such as biological and chemical safety, mechanical safety and stability, clinical safety and performance. In the area of service provision, it is checked whether the implant fulfils the services that are advertised. In addition, the manufacturer must also provide numerous verifications.
This evidence includes issues such as: is a verifiably functioning quality assurance system in place that complies with the EN ISO 13485 standard? Has a risk analysis been carried out? Are any incidents duly reported to the Federal Institute BfArM? If all specified standards are met, CE certification is awarded. This in turn makes it clear that the CE mark is a reliable indication that the implant is a product manufactured in accordance with the standards. After all, the regulatory framework for medical devices consists of a very extensive and hierarchically structured system. This system includes European standards, directives, guidelines, national laws and technical rules and regulations.
The CE mark therefore only includes products that comply with the required performance and safety of the regulations of the respective product group. The breast implants from POLYTECH Health & Aesthetics meet all these requirements 100 percent.
Polytech Implants
In Germany POLYTECH Health & Aesthetics is the only manufacturer of soft tissue implants made of silicone used in plastic surgery. These are German branded products that are known throughout the world for their high precision, efficiency and quality. POLYTECH has been successfully represented on the market for 25 years. The main focus of the company is on breast implants. The implants are produced in Germany at the headquarters in Dieburg.
From this headquarters, sales are controlled in over 70 countries around the world. Since the entire production is carried out in Germany, all processes of product development up to quality control, approval management and packaging and delivery can be monitored and controlled. This ensures the highest level of quality.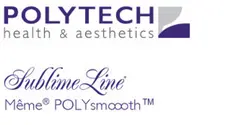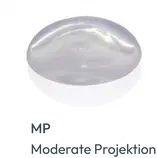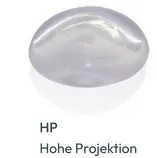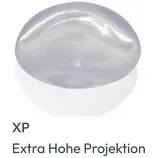 © POLYTECH Health & Aesthetics, www.polytechhealth.com
The extended warranty program for breast implants ensures maximum safety. All participating patients will receive a lifetime guarantee for their replacement implants in the event the shell ruptures. A 10-year warranty is provided in case of hardening, slipping or twisting of breast implants, which are coated with microthane.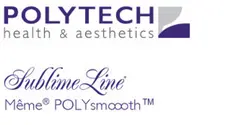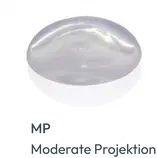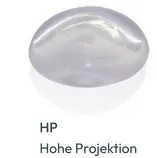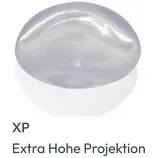 © POLYTECH Health & Aesthetics, www.polytechhealth.com
Every implant from POLYTECH Health & Aesthetics is almost handmade. Automated mass production is deliberately avoided here. The implant covers are cast using plastic moulds and then vulcanised. All under clean room conditions. Each product is then marked with a serial number located inside the case. Afterwards the shell is filled with silicone by hand. It is always examined for possible errors. Only after this procedure are the implants vulcanised again and their shape stabilised.
In order to guarantee the best quality and safety of the implants, they are not only checked after each production step but also at regular intervals by means of mechanical load tests. More than 1,500 different breast implants for aesthetic use are manufactured in Dieburg using this method. The production plan also includes soft tissue implants, for example for contouring the calf muscles, buttocks or the male breast.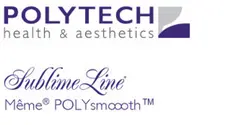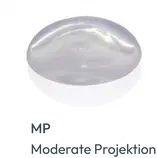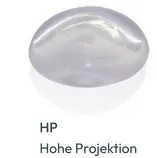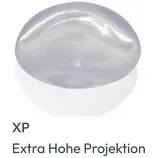 © POLYTECH Health & Aesthetics, www.polytechhealth.com
Breast Implants in Berlin
As already briefly mentioned, stress tests are also carried out regularly. As part of this, sample strips taken at random from an implant cover are subjected to a so-called tensile test. The sample strips are stretched to at least 450 percent. Then there's the impact test. Again, an implant is selected at random and tested in a simulated rear-end collision. The impact occurs at 45 km/h. The implant must survive this impact undamaged in order not to fail.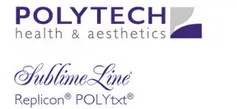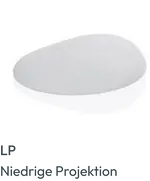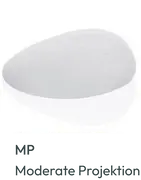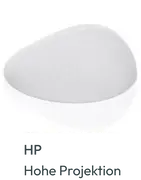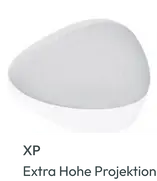 © POLYTECH Health & Aesthetics, www.polytechhealth.com
When breast augmentation with silicone implants is performed, the result is achieved by choosing the volume of the inserted implants. For this reason, it is very important to understand the patient's desire for enlargement not only by the target size of the bra. Rather, it is important to determine the exact desired size for breast augmentation in advance on the basis of pictures, during the consultation, but also by using trial implants, which are given out during the consultation and worn by the patient. To this end, personal conversation and dealing with the different size proportions of silicone implants in front of the mirror are particularly important.
For a successful breast augmentation corresponding to the patient's desired image, the plastic and aesthetic surgeon not only needs a lot of experience, but also sufficient image documentation of his own results. Recognizable faces or data of previous patients are not necessary to demonstrate this. This is how you get a vivid representation of the possible result. The volume is limited, which is useful for breast augmentation by inserting the silicone implant and corresponds to the patient's wishes. In addition, the choice of implant can be checked during breast augmentation, even in the operating situation. Trial implants are used for this purpose and are discarded after breast augmentation. When using the trial implants, the patient is erected as if they were sitting on a chair. Afterwards the result of the breast enlargement can be seen. If the implants fit well, they are then discarded and the actual permanent silicone implants are inserted.
This procedure increases the certainty of reaching the desired size, as discussed with the patient. The extension of the duration of the operation is insignificant here, as it is the result that counts with breast augmentation, not the duration of the operation. We will be also happy to take the time to accomodate your wishes with regards to this.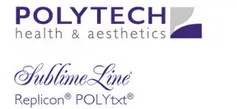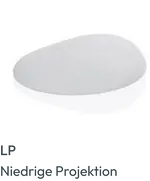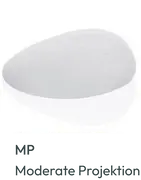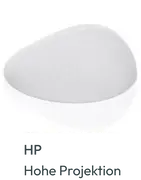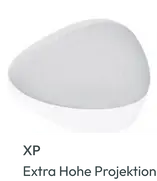 © POLYTECH Health & Aesthetics, www.polytechhealth.com
Breast Implant Models
POLYTECH Health & Aesthetics currently offers the largest selection in this field, with 1,500 different breast implants. Every woman has individual demands for her breast implant, which can be optimally fulfilled thanks to the different model types. There are basically two basic types of breast implants: One of these basic types is the round implant, which gives the breast an evenly lush and large volume. Then there are anatomically shaped implants.
These are modelled on the natural shape of the breast and thus adapt perfectly to the female body silhouette. There are also differences in the areas of the envelope surface and filling material. The surface can be smooth, textured or coated with a micropolyurethane foam. All implants are filled with a non-liquid, highly cross-linked silicone gel with a so-called memory effect. This means that the implant will regain its original shape if it has previously been subjected to moderate pressure. Even if the implant were cut open or cut through, the gel would not leak and the implant would retain its shape.
The silicone used by POLYTECH Health & Aesthetics is of course approved for long-term implantation. Furthermore, different silicone gels are used, which differ in their strength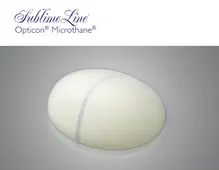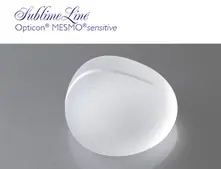 © POLYTECH Health & Aesthetics, www.polytechhealth.com
Implant series
POLYTECH Health & Aesthetics offers a total of two implant series, containing around 800 implants. The Sublime Line implant series comprises 716 implants. They are all filled with a slightly firmer gel. The DiagonGel 4Two series comprises 86 implants. These have the special feature of being filled with a firm gel in the front area and a soft gel in the back area.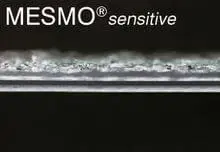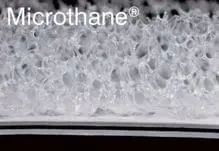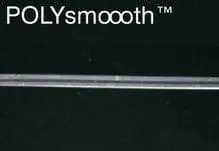 © POLYTECH Health & Aesthetics, www.polytechhealth.com
Different implant surfaces are used depending on the indication. In order to keep the complication rate as low as possible, implants with a microthane coating and textured implants are increasingly being used. They reduce the risk of capsule fibrosis. In a long-term study from the USA, it could be proven that the risk of capsule fibrosis is significantly reduced with Microthane implants. After an implantation period of 8 years, the rate was 15 percent lower for textured implants and 30 percent lower for smooth-walled implants.
Up to 10 years after implantation, patients enjoy greater protection against capsular fibrosis thanks to Microthane. They also have a longer reoperation interval. These many advantages result in a much lower risk of complications.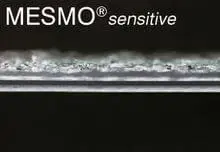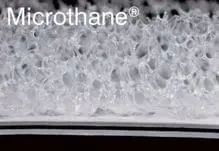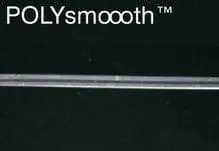 © POLYTECH Health & Aesthetics, www.polytechhealth.com
Consultation
With the "Hello Professor!" function you can forward your questions or pictures directly to Professor Sinis via WhatsApp.