Hair Transplantation:
The Costs
Whether a receding hairline, a bald patch or just a bald spot at the back of the head, the costs for a hair transplant and hair thickening vary from patient to patient. In general, however, men and women who are interested in hair transplantation should definitely consider the different methods and possibilities and the resulting advantages and disadvantages in advance. In the course of a detailed consultation at the Sinis Clinic Berlin, we will determine the scope and the resulting costs with you.
Hair Transplantation costs:
The facts
Length of stay in the clinic
1 day outpatient
Anesthesia
Local anaesthesia
Follow-up treatment
14 days
gentle treatment
Resumption of social activities
Immediately
Costs of a Hair Transplant
In the following you will learn more about the costs of a hair transplant in Berlin. These depend primarily on the size of the area to be treated and the number of hair follicles transplanted. We also address the frequently asked question of whether health insurance companies contribute to the costs incurred.
Testimonials
After a long search I finally found the surgeon I trust! I have a complicated story about Prof. Dr. medical Sinis come. He encouraged me, but was honest with me at the same time.
12.06.2022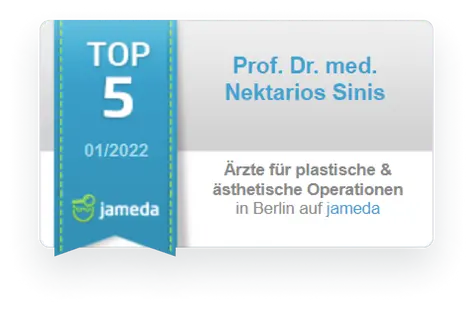 Cost Items
In contrast to other countries, in Germany the protection of the patient's physical integrity is a priority. For this reason, the medical procedure of hair transplantation is also billed according to the German Fee Ordinance for Physicians (GOÄ) in order to ensure quality assurance. According to GOÄ (current version), the rate of 4.66 euros per graft must be calculated for hair transplants in Germany. The cost of a hair transplant will also depend on how many follicles need to be transplanted to achieve the desired and satisfactory result.
In general, health insurance companies do not pay the costs of hair transplantation because the hair loss does not affect the patient's health. In the case of injuries, skin diseases and serious psychological consequences, health insurance companies occasionally make an exception. In the case of possible interventions due to psychological problems, health insurance companies may, under certain circumstances, prepare their own psychological expert opinion.
This should clarify whether the patient has a treatable mental illness. These regulations affect both statutory and private health insurance companies.
Consultation
With the "Hello Professor!" function you can forward your questions or pictures directly to Professor Sinis via WhatsApp.