Facial Hair Transplantation
If it is present, the beard is a central part of the face in men. It frames the face and gives the wearer a striking, masculine appearance. Therefore, it puts a great burden on many men if their own beard does not grow fully and according to their own ideas. if their own beard does not grow fully and according to their own ideas. The reasons for this are manifold: hormone deficiency, a genetic predisposition could be the cause. In some cases, however, it is also injuries resulting in scarring that contribute to reduced beard growth. If it is not possible to wear a three-day beard or a full beard, or if holes and gaps disturb the overall look, it can be a sensible option to have beard hair implanted.
Facial Hair Transplantation:
The facts
Length of stay in the clinic
1 day outpatient
Anesthesia
Local anaesthesia
Follow-up treatment
14 days
gentle treatment
Resumption of social activities
Immediately
General Information about
Beard Transplantation
In the following text you will learn more about facial hair transplants. You can find out here the experiences our customers have had with transplantation. We will also inform you about how we usually calculate the costs of a treatment. We look forward to your visit to our clinic in Berlin.
Testimonials
After a long search I finally found the surgeon I trust! I have a complicated story about Prof. Dr. medical Sinis come. He encouraged me, but was honest with me at the same time.
12.06.2022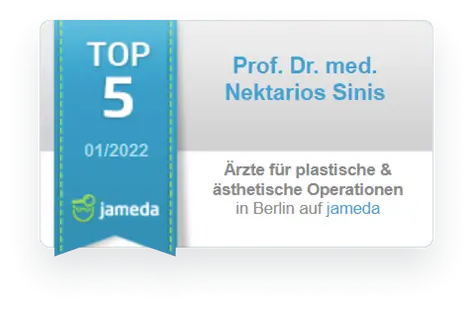 Experience
A beard transplantation is basically similar to an own hair transplantation for the head hair. First of all, the wishes and ideas of the patient are determined in a detailed consultation, and then the form and method are determined. The transplantation of structurally identical hair from the back of the head promises a particularly natural looking result. Depending on your wishes, different numbers of hairs can be transplanted, so that small bald spots can be filled in.
However, it is also possible to form a dense full beard. Since we respond to each of our patients individually, the experiences of our patients after a beard transplantation are correspondingly consistently positive. Patients do not have to worry about later hair loss either, because in a beard transplantation not only hair but also hair roots are transplanted, so that the procedure does not have to be repeated, but a permanently beautiful result is achieved.
Costs
Implanting beard hair requires professional experience and special skills. For this reason, interested parties are advised to place themselves in the hands of an experienced specialist with appropriate training. At the Sinis Clinic Berlin, patients are first given a detailed consultation after a detailed examination. We know from experience that every patient and every single finding is different.
The respective costs for a beard transplantation also vary from patient to patient. For one thing, the number of donor hairs plays a major role. Depending on whether a full beard or only individual gaps are to be filled, different numbers of follicles are needed. Similar to hair transplantation, the price is calculated per inserted hair follicle or graft plus the costs for the doctor's fee, the operation, the material etc.
If you are interested in a beard transplantation in Berlin, we at the Sinis Clinic Berlin will be happy to assist you in word and deed. Inform yourself about the possible treatment methods, the costs and possible financing during an individual consultation. Arrange your individual appointment today: Call us at 030 223 899 08 or simply fill out our contact form.
Consultation
With the "Hello Professor!" function you can forward your questions or pictures directly to Professor Sinis via WhatsApp.