General Information
About the MACS Lift
The abbreviation MACS stands for Minimal Access Cranial Suspension (in plain English: a small incision and upwards movement of sagging parts). The MACS lift is a lifting procedure in which the skin is tightened through the smallest possible incisions in front of the ears or at the hairline. in which the skin is tightened through the smallest possible incisions in front of the ears or at the hairline. In contrast to the SMAS lift, the MACS lift is a smaller procedure, which is particularly suitable for younger people with less pronounced skin aging, in whom the skin shows a slight loss of elasticity, which means that a great treatment success with a fast healing process and an inconspicuous scarring formation can be expected.
The MACS Lift:
The Facts
Length of stay in the clinic
1 night
Anesthesia
General or local anaesthesia
in twilight sleep
Follow-up treatment
Decongestant measures
for 2–3 days
Resumption of social activities
After 14 days,
depending on extent & additional interventions
General Information
About the MACS Lift
MACS Lift is also ideal for patients who want a gentle rejuvenation of the facial area without changing the natural facial expression. The MACS Lift is also ideal for tightening the cheek area. The cheeks, which have collapsed due to the natural aging process, not only receive a tightening but also a volume increase by means of anchoring seams in the layer of connective tissue and mimic muscles. The surgery usually takes three to four hours and is performed either under general or local anesthesia. Possible bruises are rather small after the MACS lift. Measures to reduce the swelling of the facial region should nevertheless be carried out for about two to three days. For a soft skin we recommend the Mini Face Lift or the thread technique, where no cuts are made.
Testimonials
After a long search I finally found the surgeon I trust! I have a complicated story about Prof. Dr. medical Sinis come. He encouraged me, but was honest with me at the same time.
20.08.2022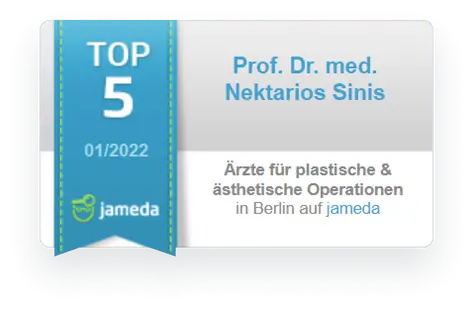 Experience
Patients who have decided to undergo a MACS lift at our Sinis Clinic Berlin have had very good experiences and are very satisfied with the results. For many patients it is important to share their experiences with other people who are thinking about a similar procedure. These patient reports from our Sinis Clinic Berlin can be found on the portals Jameda and estheticon.de. There you will also find reports from our patients on the SMAS lifting.
Costs
We understand that you want to know in advance how much your MACS lift will cost. Every patient is treated individually, therefore we do not work with all-inclusive prices. We try to determine the costs for your MACS lift as accurately as possible in advance. Many factors influence prices, we will analyse these together and present them to you in detail in a personal meeting. We find that a transparent cost breakdown before the procedure is very important to ensure there are now unexpected costs after your MACS lift.
You can trust us. You are and your wish to have a MACS lift in the right hands at our Sinis Clinic Berlin. We have already made many patients very satisfied with the results of a MACS lift. Our patients come from Berlin, all over Germany and from abroad. We would be pleased to support you and your desire for a younger and fresher appearance. Do not hesitate to call us at 030 – 67 82 81 81. You can also use the following contact form to arrange a personal meeting about your MACS lift here in Berlin.
Consultation
With the "Hello Professor!" function you can forward your questions or pictures directly to Professor Sinis via WhatsApp.