Hyaluronic Acid Treatment – Nose Correction
Here you can learn more about our clinic and take a look behind the scenes. We also introduce you to our team. Our commitment goes far beyond that of the patients. We cooperate with various institutions, companies and organisations to get things done. Prof. Dr. Sinis also supports charitable institutiones. A professional and thorough follow-up treatment is of great importance for the success of a facelift. The patient can contribute a lot to the quick healing process through his own behaviour. A well-shaped nose shapes the face. Even small deviations can disturb the overall harmony.
Hyaluronic Acid
– Nose Correction: The facts
Length of stay in the clinic
No stay necessary
Anesthesia
Only local anaesthetic
ointment
Follow-up treatment
Every 6 to 12 months
Resumption of social activities
1 to 2 days
after the treatment
General Information about
Nose Correction with Hyaluronic Acid
In Germany, many people suffer from aesthetic malformations of the nose such as shape defects, hump formation or misalignment. For those affected, this means being exposed to constant suffering. Modern nasal surgery offers the possibility of correcting nose shapes or inflammatory changes (rhinophyma or bulbous nose) without surgery. Rhinoplasty is one of the most demanding operations in plastic and aesthetic surgery. As part of our surgical spectrum of nose corrections, we also offer the injection or correction of small deformities with hyaluronic acid. It is not uncommon and makes sense for hyaluronic acid application to the nose, lip or nasolabial folds to be combined with a nose operation.
Testimonials
After a long search I finally found the surgeon I trust! I have a complicated story about Prof. Dr. medical Sinis come. He encouraged me, but was honest with me at the same time.
20.08.2022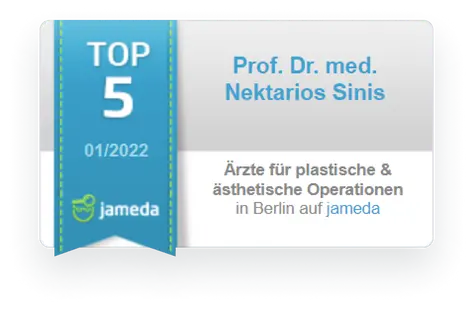 General Information
For nose correction without surgery, filling substances are used that are injected under the skin. The most popular filler is currently hyaluronic acid. Before the injection, the affected area of skin of the nose is locally anaesthetised. This can be done with an anaesthetic syringe or with a special anaesthetic ointment, which is applied a few minutes before the treatment. Afterwards, certain nasal end formats can be corrected or reduced by filling with hyaluronic acid.
Immediately after the injection of hyaluronic acid, the result of the nose correction is already visible. Depending on the hyaluronic acid used, the result can be maintained for up to 18 months. Treatment with fillers is always a constructive process. Therefore, a nose reduction is not possible without a corresponding operation. Likewise, a complete removal of the nasal hump by means of injection is not possible.
However, a hump can be concealed and the overall appearance of the nose improved with the help of hyaluronic acid fillers.
Saddle nose correction
Improvement of slight asymmetries
Fear of surgical intervention
Time limit for follow-up treatment and regeneration phase due to social obligations
When seeking a constructive correction
It's a minor nose job
Result should be immediately visible
Costs
The costs of the initial consultation always depend on the type and extent of the treatment. In principle, the scale of fees for doctors applies to the consultation hours. Thereafter, patients pay 90 € for the initial consultation with anamnesis, collection of previous findings, physical examination and preparation of a therapy and cost plan. This fee is payable once and will not be credited towards further treatment.
Additional appointments and post-operative care are included in the total price of the operation and do not have to be paid separately. This is the only way to ensure a high-quality treatment with sufficient treatment time, during which we can respond to you and your specific needs. In order to ensure the success of the treatment, we have to carry out the consultation with sufficient time and care.
Consultation
With the "Hello Professor!" function you can forward your questions or pictures directly to Professor Sinis via WhatsApp.